Skip to end of metadata
Go to start of metadata
System Prerequisites
Windows Operating System 64 Bit: Win 7, Win 8.0, Win 8.1, Win 10, Windows Server 2012, 2012 R2, 2016
Microsoft Outlook 32 Bit and 64 Bit: 2010, 2013 and 2016
Download
https://es01.epikshare.com/index.php/s/R2K2ybDBzuHlMrJ
Where To Buy
https://oc.oem-cloud.com/en/owncloud-outlook-plugin-annual-license
License
License type: Annual license per named user
Videos
https://www.youtube.com/playlist?list=PLw_eyGmVBqHBJsGqO_r5cX47ExW9bgioA
My Outlook Shares
Check the Status of your Shares
Open the "My Shares"-window (Found in the Add-In Tab)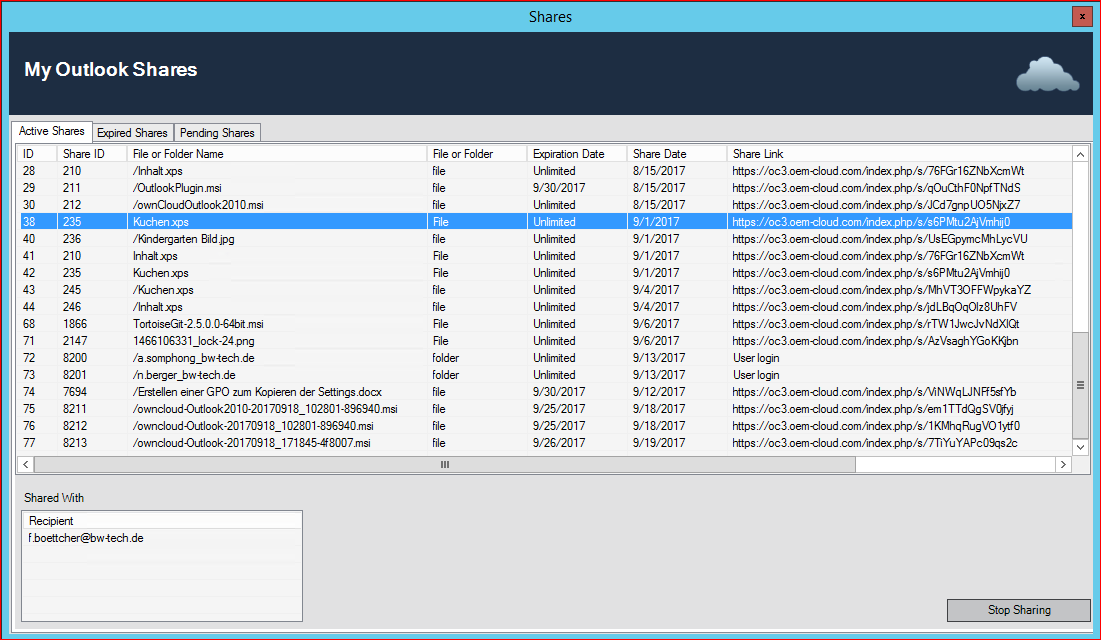 Active Shares:

Shared file or Folder Name
Type of the share (file or folder)
Expiration Date of the share
Share Date
Link to the shared file/Folder
Recipient of the selected file or Folder share
Button "Stop Sharing" to stop the selected share

Expired Shares

Shared file or Folder Name
Type of the share (file or folder)
Expiration Date of the share
Share Date
Link to the shared file/Folder
Recipient of the selected file or Folder share
Troubleshooting
Check the Status of the E-Mails
For this:
Open the "Your Shares"-window (Found in the Add-In Tab)
Check the "pending shares"
You should see the progress of each outgoing mail (i.e. uploading)
If the upload does not work, verify your credentials and internet connection.
If everything was correct check with an administrator to verify the version of the cloud server.