Skip to end of metadata
Go to start of metadata
Problem
When Starting Outlook with the epiKshare Add-In a message pops up to ask for access: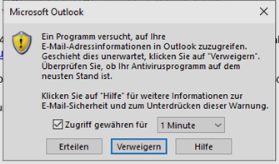 How do I "allow" the add-in forever?
Solution
There are some registry entries which are set during installation. On some Environments this is overridden by i.e. group profiles.
Here are the settings you need to set in ordre to get rid of this.
HKEY_CURRENT_USER/Software/Policies/Microsoft/Office/16.0/Outlook/Security
AdminSecurityMode=3
CheckAdminSettings=1
ObjectModelGuard=2
PromptOOMSend=2
PromptSimpleMAPINameResolve=2
PromptSimpleMAPIOpenMessage=2
PromptSimpleMAPISend=2
Related articles